How To Emma Watson Your Way Through Life

If you know who Emma Watson is, then you will know it is futile to deny how this little witch from Harry Potter could steal our hearts away. There is really something about this petite English girl whom we've all had the opportunity to watch her blossom from boarding Hogwarts Express at King's Cross Platform 9 ¾, to the unassuming, witty and ever so beautiful Belle from Beauty and the Beast. Not only she's a star power to be reckoned with on the silver screens, Emma is also a notable activist defending the rights of women everywhere. Now tell us, is there a reason not to fall in love with her?
This is why we feel that it is crucial that we all have a little Emma in us. Here's how:


#1 Start a book club and give some away for free
A Bachelors holder from Brown University, Emma is known for her love of knowledge and that includes incessant reading. She loves reading so much that she started a book club and even gave away books for free at the tube! Beauty and brains? Yes, please!
#2 Embrace the feminist in you
Over the years, Emma has been pretty vocal on women's rights and even had the chance to address it to the folks at United Nations as a UN Goodwill Ambassador. Her speeches are sincere, truthful and extremely powerful, and will leave you without words. If you're planning to get involved, this portal is extremely helpful in matching you with opportunities surrounding women's rights or other issues of interests within your communities.
#3 Tell your haters to back off, nicely.
Extremely polished and mild mannered, Emma has the gift of the gab and has no problems calling you an a**hole without calling you one. When her recent photo shoot sparked controversy, she released this statement that said, "Feminism is about equality and it's about choice. Feminism is not a stick with which to beat other women". Smooth, Emma. Smooth.
#4 Dress like her
A slayer on the red carpets, Emma is known for her sleek styles. We found some easy looks that you can easily dupe for cheap.
You can never go wrong with off shoulders, and Emma knows that! Pair our very own Lanie (RM89) with skinnies or culottes and you're ready to go!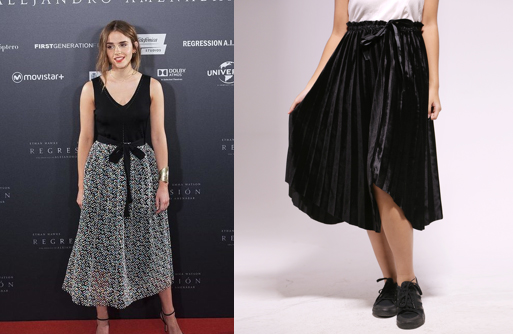 Emma knows a good knee length skirt will always save your day. Pair it with a basic top to bring the attention to the details of the skirt. Look for ones with light and soft fabric so that you can pull off that Marilyn Monroe sexy twirl. To copy this magic, check out Carlia! (RM89)
#5 Be Humble
Although massively talented and beautiful, Emma keeps her toes on the ground and never lets success gets to her head. Staying humble is the key to maintaining success and it is really important to stay kind to the people around you.